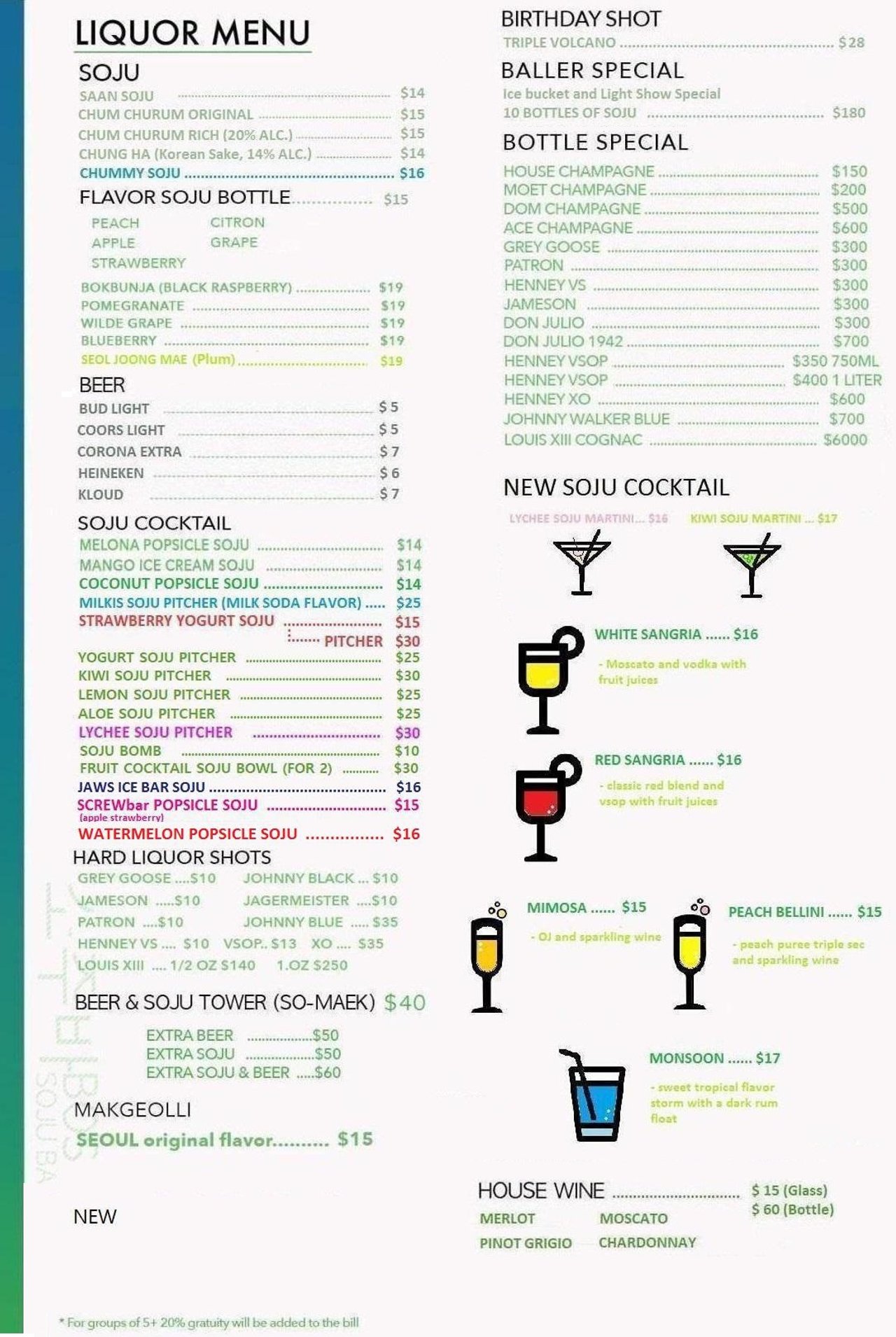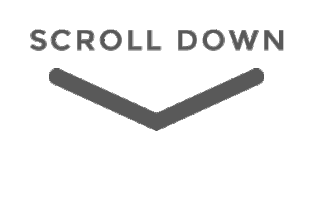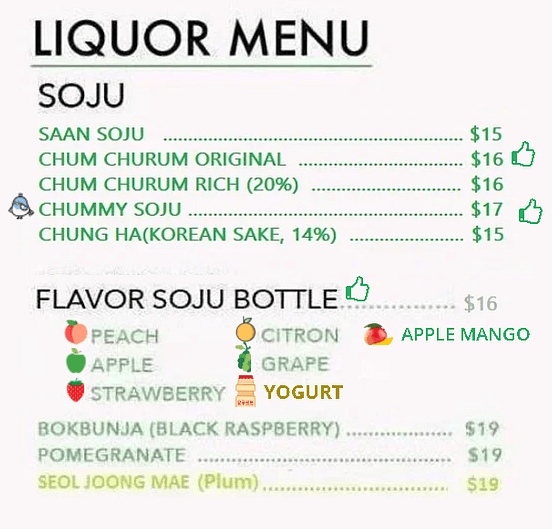 Seasoned tofu topped with soy sauce
Chicken tenders (white meat)
Corn with mozzarella cheese on sizzling plate
Boiled soybeans, sprinkled with sea salt
Fresh made fried tortilla chips topped with choice of Korean BBQ Beef Bulgogi or Spicy Pork Bulgogi, tomatoes, onions, and melted cheese.
FRIED OR STEAMED DUMPLINGS 튀김만두/찐만두
$ 10.00
White rice topped with fresh vegetables, fried eggs, side of red chili sauce and your choice of topping
STONE BOWL BIBIMBOP 돌솥비빔밥
$ 16.00
Bibimbop served in a sizzling stone pot
Choose Your Flavor (choose one):
/
ORIGINAL KOREAN FRIED 후라이드
/
/
/
Also spelled as "Tteok-bokki", a famous Korean street food served with rice cake, fishcake, and vegetables. Gochujang-based sauce(sweetly spicy sauce) is added for additional flavor and heat.
Breaded fried pork cutlet, served with rice and Korean Style Salad
Breaded fried chicken cutlet (white meat), served with rice and salad
STIR FRIED GARLIC NOODLES 갈릭누들
$ 16.00
*NEW SOJUBA SPECIAL - savory with a strong garlic punch, contains garlic, butter, and soy sauce.
Stir fired Udon, served with vegetable and choice of toppings
Korean instant noodle cooked in a traditional Korean style pot
Clear sweet potato noodles stir fried with vegetable, and soy marinated beef, tossed in SOJUba's Special House seasoning
Sesame flavored Wakame seaweed (contains sesame seeds)
*** Consuming raw or under-cooked meat, seafood, shellfish, or eggs may increase your risk of food borne illness. Our food may contain sesame, eggs, wheat, fish, shellfish or soy bean. Before placing your order, please let our staff know of any food allergies. *** Parties with 5 or more will be charged automatic 20% gratuity. *** Our seating policy is limited to maximum of 2 hours per each party.
MAKKU Rice beer ......................... $ 8.99
OG, Passion Fruit, Mango, Blueberry
SOKU SOJU SELTZER ....................... $ 11
TANGERINE, STRAWBERRY, PINEAPPLE